Las Vegas, the gambling capital of the world, boasts a staggering array of 24 diverse table games, encompassing the exhilarating realms of blackjack, pai gow, and roulette, all bundled together under one thrilling category. Among these riveting options, it is undeniable that blackjack reigns supreme as the undisputed champion of table games in Las Vegas. However, the bustling casinos of this vibrant city do not limit themselves to just one alluring game. In fact, there exist an impressive variety of other captivating table games that are expertly dealt at virtually every one of the 72 casinos scattered throughout Las Vegas, guaranteeing an electrifying experience for every avid gambler.
The following compilation presents the top 10 sought-after table games in Las Vegas, ranked according to the extent of their availability across various casinos in the market.
Regularly visiting all the Las Vegas casinos that offer table games allows us to provide you with this valuable information. In our Bet-NV.com Newsletter, you'll find a comprehensive guide to every live table game, including details about minimum bets and specific rules. We cover everything from craps odds to the type of pai gow poker dealt, and even whether blackjack pays 3:2. Rest assured, we've got you covered when it comes to staying informed about the exciting world of Las Vegas casinos and their table games.
Supporting Bet-NV.com by signing up for a monthly or quarterly membership is a great way to access our Las Vegas Blackjack and Table Game Survey. This exclusive subscription service provides you with the latest updates and new data from our frequent casino visits. With memberships starting as low as $3 per month, you can enjoy the benefits of being a member and stay informed about the ever-changing landscape of Las Vegas casinos. Don't miss out on this opportunity to enhance your gaming experience and make the most of your time in Sin City. Join our subscription service today and gain an advantage at the tables!
You can now access Bet-NV.com subscriptions on Gumroad and Patreon, offering equally valuable content on both platforms.
For assistance with a gambling issue, reach out to 1-800-GAMBLER if you or someone you are acquainted with is affected.
Blackjack remains the top choice among table games in Las Vegas.
Las Vegas, the gambling capital of the world, boasts a staggering number of 72 casinos offering a wide range of table games, including the ever-popular Blackjack. In our extensive survey, we meticulously counted a total of 1435 blackjack tables across the entire market. On average, Las Vegas casinos that offer live games proudly showcase an impressive collection of 20 blackjack tables. However, it's important to note that there is a significant degree of variability among establishments. For instance, some smaller local casinos may only have one or two blackjack tables, while the extravagant casinos lining the famous Strip proudly display an astonishing number, nearing the triple digits, with nearly 100 tables dedicated solely to the captivating game of Blackjack.
This figure encompasses all blackjack tables, irrespective of their payouts and other regulations. Additionally, the count includes blackjack variations such as Free Bet and Bonus Spin.
Craps
Craps, the thrilling dice game that has captivated gamblers for decades, has secured its spot as the second most popular table game in the glitzy city of Las Vegas. In a whopping 69 casinos scattered across the market, players can eagerly place their bets and roll the dice in this exhilarating game of chance. However, it's worth noting that not all casinos offer both blackjack and craps. Surprisingly, only Alamo, Skyline, and Poker Palace deal blackjack exclusively, without extending their hospitality to craps enthusiasts. This interesting dynamic adds an element of exclusivity and variety to the Las Vegas gaming scene. With a keen eye for detail, we meticulously counted a grand total of 227 craps tables in the market, providing ample opportunities for players to join in on the dice-rolling action. It's important to mention that this count does not even include the 32 specialized crapless craps tables, catering to those seeking a unique twist on the classic game. Las Vegas truly offers a diverse range of experiences for both seasoned and aspiring gamblers alike.
Roulette
In my exploration of the bustling Las Vegas casino scene, I discovered a fascinating insight regarding the popular game of roulette. It appears that this thrilling game of chance is widely enjoyed across the city, with a total of 66 esteemed casinos dealing in its captivating allure. However, as I delved deeper into my research, I stumbled upon an intriguing revelation - three particular casinos, namely Club Fortune, Main Street Station, and Silver Sevens, stood apart from the rest. While they enthusiastically offer the exhilarating game of craps, they curiously exclude roulette from their repertoire. Undeterred, I continued my investigation and uncovered an astonishing number of 320 roulette tables scattered throughout the vibrant city of Las Vegas. These tables, I noted, showcased a diverse range of variations, each with its own distinctive characteristics. Among them, I encountered 21 European wheels, renowned for their unique single zero format, providing an added layer of excitement for avid roulette enthusiasts. Additionally, there were six tables featuring the standard single zero configuration, known for its timeless appeal and elegant simplicity. The majority, however, consisted of 208 double zero roulette tables, which have become synonymous with the classic American version of this captivating game. Lastly, I encountered 85 tables that offered the triple zero roulette option, a relatively newer addition to the Las Vegas scene. With this comprehensive understanding of the roulette landscape in Las Vegas, I felt a renewed sense of anticipation, eager to explore the various options available and immerse myself in the thrilling world of spinning wheels and exhilarating possibilities.
Pai Gow Poker
It's quite surprising to discover that pai gow poker has secured its spot as the fourth most beloved table game in Las Vegas casinos that offer it. What's even more remarkable is the fact that out of the 72 casinos that have table games, a staggering 58 of them feature this game. This demonstrates the immense popularity of pai gow poker within the local market, where a few establishments still offer the game for a mere $5.
In my exhaustive search throughout the vast expanse of the Las Vegas gambling scene, I unearthed a staggering 147 pai gow poker tables. It is worth noting that a considerable 128 of these tables belong to the esteemed category of face up versions. However, a mere 19 tables have managed to preserve the traditional essence of commission pai gow poker, seemingly on the brink of extinction in this bustling city. Interestingly enough, several of these remaining tables coexist within the same gambling floors as Face Up Pai Gow Poker, a variant that graciously opens its doors to eager players even before the auspicious arrival of Fortune or any of its comparable counterparts.
Discover the exclusive quintet of Las Vegas casinos that offer traditional pai gow poker, completely void of any face up variations. Unearth the secret to locating these distinctive tables with the guidance of the esteemed Bet-NV.com newsletter.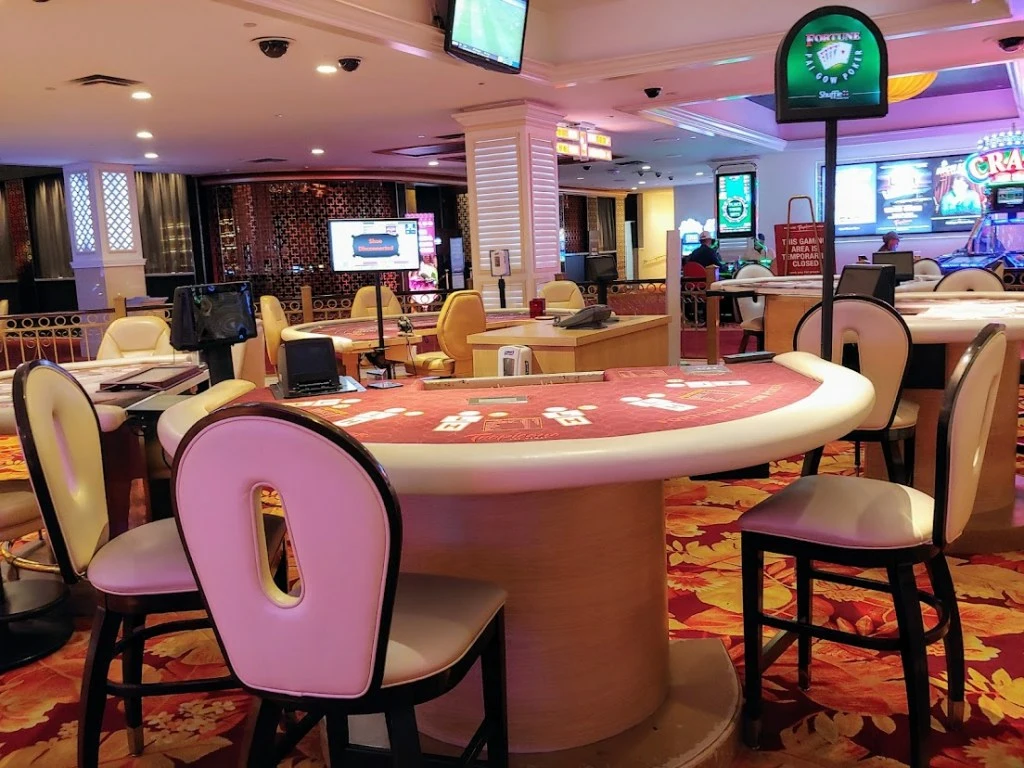 Three Card Poker
In the vast expanse of Las Vegas, a popular card game called Three Card Poker is widely dealt across 57 casinos, encompassing all its similar variations. Whether you find yourself strolling along the vibrant Strip, exploring the bustling downtown, or venturing into the local market, this thrilling game awaits your presence. Intriguingly, we meticulously tallied a grand total of 114 tables hosting this captivating game within the market, providing ample opportunities for enthusiasts to test their luck and skill.
Ultimate Texas Hold'em
I discovered that Ultimate Texas Hold'em is available at 56 casinos in Las Vegas, placing it in sixth position. However, if we include Heads Up Hold'em and Jackpot Hold'em, which bear some resemblance to Ultimate Texas Hold'em but are not identical, the number of casinos offering these variants would increase to 61. Interestingly, we came across a grand total of 126 tables dedicated to this captivating game.
Baccarat
In terms of Las Vegas casino popularity, Baccarat finds itself in seventh place. This particular game is dealt in a total of 43 casinos across the city. Interestingly enough, Baccarat boasts the second highest number of tables in Las Vegas, with a grand total of 368. The reason for this lies in the fact that several prominent establishments along the famous Las Vegas Strip, as well as some off-Strip properties, have gone so far as to create dedicated pits and VIP areas exclusively for the game. On the flip side, many smaller local casinos opt not to offer Baccarat to their customers.
Baccarat's limited presence in downtown Las Vegas is due to its relatively small demand, as it is available only at a quarter of the casinos in that area.
High Card Flush, a game that I thoroughly enjoy playing because of my passion for suits.
I Luv Suits and High Card Flush, although distinct in terms of side bets, share the same essence as a game. Hence, in this compilation, we have merged the two. Our research uncovered a total of 13 casinos offering High Card Flush, while 12 casinos featured I Luv Suits. Surprisingly, Paris is the sole casino in Las Vegas that deals both variants. Consequently, the presence of this game, in one form or another, can be witnessed in a remarkable 24 casinos across Las Vegas. Furthermore, each of these games is available on precisely 15 tables within the market.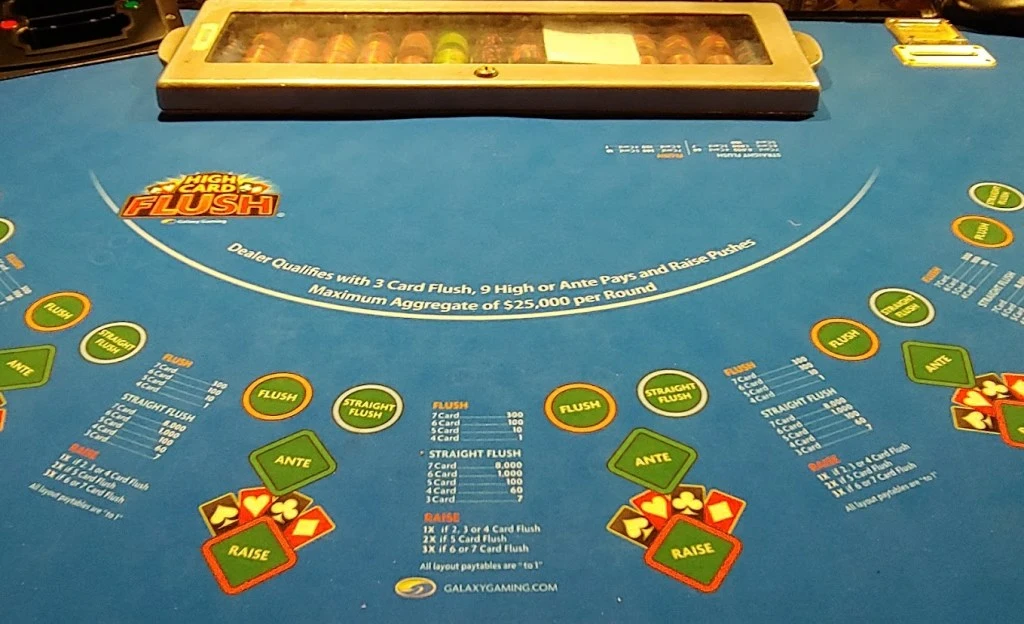 Crapless craps
Back in December 2019, before the pandemic hit, we conducted a game survey in Las Vegas. What we found was that The Strat was the only casino that offered crapless craps. Interestingly, two other casinos, Las Vegas Club and Plaza, had also dealt this game at some point during the 2010s. Fast forward to today, and you'll be thrilled to know that you can find crapless craps at 22 different Las Vegas casinos. The majority of these casinos are located on the famous Strip, with the exception of Westgate. In total, there are a whopping 32 tables where you can enjoy this thrilling game.
I recently wrote an article highlighting the disparities between craps and its variant, crapless craps. One notable dissimilarity lies in the absence of "don't bets" in crapless craps, a feature that can be found in the traditional version. Additionally, unlike standard craps, the pass line in crapless craps does not result in a loss during the come-out stage.
Let it Ride
I've always been intrigued by Let it Ride, a captivating poker pit game that has withstood the trials of time, earning its rightful place among the top 10 most sought-after table games in the vibrant city of Las Vegas. It's fascinating to witness how this game has evolved over the years, despite a few installations being phased out during periodic surveys. Nevertheless, Let it Ride continues to be dealt at a remarkable 20 esteemed Las Vegas casinos, often accompanied by a modest minimum bet of $5. These tables are primarily situated along the illustrious Las Vegas Strip or downtown, with the exception of the renowned Rio casino. In fact, during my exploration, I discovered an impressive total of 26 Let it Ride tables scattered across these establishments, eagerly awaiting the next round of exhilarating gameplay.