Henderson presents an exceptional selection of casinos tailored for budget-friendly players, offering an unparalleled value that distinguishes itself from the rest of the Las Vegas casino scene.
Henderson's casinos maintain their allure by providing value, unlike other sections of the locals market, the downtown area, and the renowned Las Vegas Strip where value is diminishing. It's noteworthy that the drive to these establishments is worthwhile due to their low table game limits and exceptional video poker pay tables.
Emerald Island
Emerald Island, nestled in the heart of Henderson's downtown area, could very well be the ultimate bargain among all the attractions that Las Vegas has to offer. Brimming with an impressive array of slot machines and video poker, this hidden gem of a casino ensures that there's never a dull moment for its patrons. In a refreshing departure from the norm, Emerald Island has opted to forego table games, focusing solely on providing an exceptional slots and video poker experience.
Located at Emerald Island, the finest video poker game in Henderson awaits enthusiasts like me. In the nickel denomination, it thrills players with its remarkable 10/7 Double Bonus. The diverse range of 3/5/10 play games is equally captivating, boasting enticing pay tables such as the 10/6 Double Double Bonus (with a staggering 99.96% payout for a short straight flush), the NSUD (16/10 Deuces Wild), as well as the 8/5 Super Double Double Bonus, 9/7 Triple Double Bonus, and 9/6 Jacks or Better. These exhilarating games are available in various denominations, including penny, two-cent, and nickel. The sheer excitement of gameplay is further enhanced by the option to play up to 30 coins, enabling a maximum bet of $15 when indulging in the thrilling 10 play at nickels.
Emerald Island, a beautiful destination, offers an array of video poker variants with excellent pay tables. You can enjoy exciting games like Spin Poker, Ultimate X, and Split Card. What's more, these games are available in different denominations, such as penny, two-cent, and nickel. So, whether you prefer to play with smaller bets or go big, there's something for everyone at Emerald Island.
Emerald Island's players club is a fantastic bonus that I absolutely love. Every day, if you're an active player, you can indulge in a complimentary meal on the house. It's incredibly easy to earn this free meal right from the moment you set foot in the casino. Not only that, but the points you accumulate can also be redeemed at various downtown Henderson establishments, giving you even more value for your loyalty. And if that wasn't enough, there's also a convenient mobile car wash service that swings by multiple times a week, allowing you to take full advantage of maintaining the pristine condition of your vehicle.
Rainbow Club
Rainbow Club, being under the ownership of the same proprietor as Emerald Island, shares a close proximity with its neighboring casino. The allure of Rainbow Club lies in its extensive collection of thrilling games and enticing benefits, which closely resemble those offered by Emerald Island. However, it should be noted that Rainbow Club does not feature the popular 10/7 Double Bonus or Split Card games. On the bright side, patrons can revel in the presence of the esteemed 9/6 Jacks or Better game available at the bar, offering various denominations such as quarters, half dollars, and dollars.
Club Fortune
At Club Fortune, the real excitement lies in the lively table game pit. This vibrant hub of action opens its doors every Sunday through Thursday at 4pm, and on Fridays and Saturdays at the same time. While the video poker offerings may not be the best among local casinos, word on the street is that the generous comps more than make up for it. So, if you're looking for a thrilling gaming experience with the added perk of worthwhile complimentary rewards, you won't want to miss out on Club Fortune's table games.
There are a pair of Face Up Pai Gow Poker tables available for players to enjoy at this location. Additionally, you can also find 3:2 blackjack and craps games here, all with a minimum bet of $5.
Before 5pm, players have the opportunity to engage in some thrilling craps action at the table, all while enjoying a minimum bet of just $3. This is truly the final chance to experience the excitement of craps at a price below $5 in the entire Las Vegas Valet. The craps odds here are exceptional, with a multiplier of 3-4-5 times, giving players even more chances to win big. Don't miss out on this incredible opportunity to immerse yourself in the exhilarating world of craps at an unbeatable price.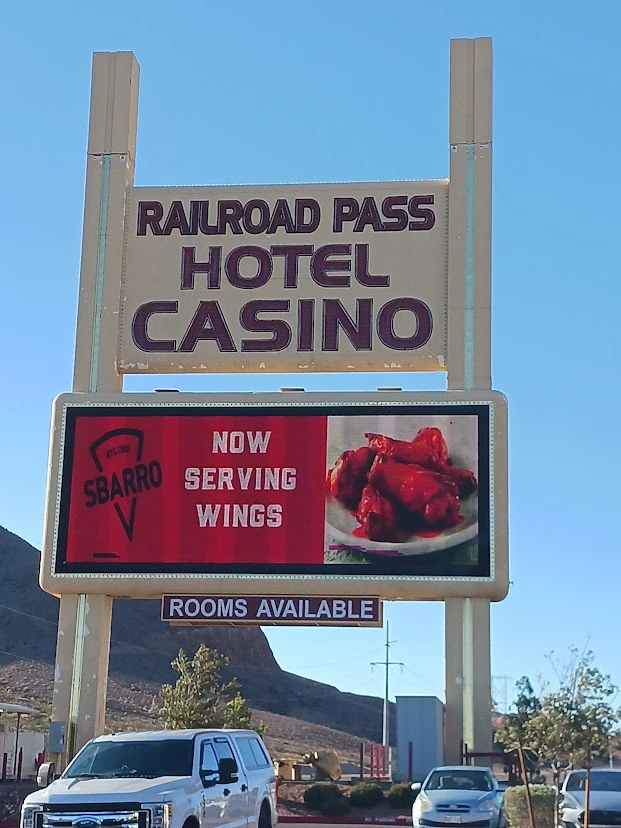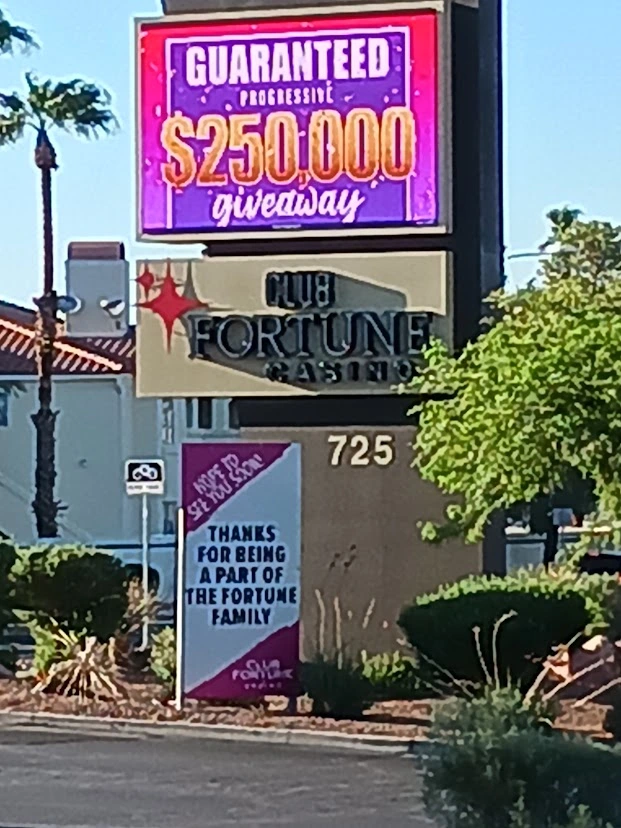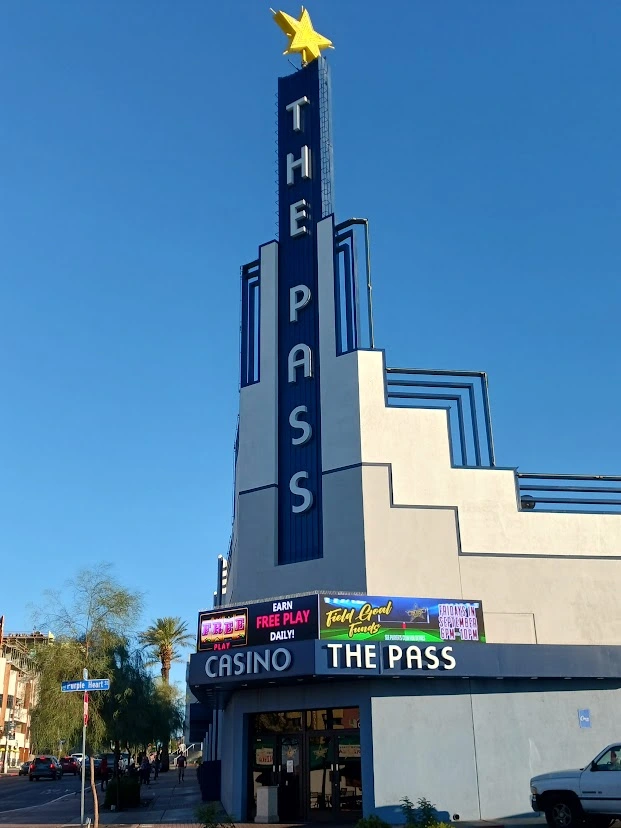 Pass and railway pass
I recently discovered a hidden gem nestled within the heart of downtown Henderson - The Pass. What intrigued me even more was the fact that it is owned by the same parent company as Railroad Pass, a well-known casino near Boulder City. The Pass and Railroad Pass share a common feature that sets them apart from other local casinos - their impressive table game pits. When it comes to video poker, however, both Pass and Railroad Pass fall short of expectations. As a frequent visitor to locals casinos, I've come to appreciate the quality and variety of video poker offerings. Unfortunately, the video poker options at Pass and Railroad Pass don't quite measure up to the standards set by other establishments in the area. Nevertheless, it is the allure of the table game pit that truly shines at The Pass. Stepping into this vibrant and lively space, one can feel the excitement in the air as players engage in thrilling games of blackjack, poker, and roulette. The atmosphere is electric, with the clinking of chips and the cheers of winners adding to the overall ambiance. In a city filled with countless casinos, The Pass stands out as a unique destination that captures the essence of classic gambling experiences. Whether you're a seasoned gambler or just looking for a night of entertainment, this hidden gem in downtown Henderson is sure to provide an unforgettable experience.
Both Pass and Railroad Pass offer roulette games at a cost of $2 per bet. Additionally, they have a $5 craps game with odds of 3-4-5 times.
Skyline Casino
Skyline Casino can be found along Boulder Highway, situated between Warm Springs and Sunset, creating an extraordinary time-traveling experience. Embracing a nostalgic ambiance, the casino immerses its visitors in the groovy tunes of 70's satellite music. Moreover, approximately fifty percent of the machines available at Skyline Casino are designed as coin droppers, adding an element of classic charm to the gaming experience.
I've come across various video poker games, and let me tell you, the crème de la crème is definitely the 10/7 Double Bonus. This game, played with quarter coins, offers an exceptional gaming experience. However, there are other top-notch coin games worth mentioning as well. For instance, the 16/11 Double Deuces Wild guarantees a thrilling time, while the 9/5 White Hot Aces provides a solid gameplay. And if you're seeking a game with a twist, the 18/7/5 Joker Poker is an excellent choice. So, whether you're a seasoned player or a newbie, there's a perfect coin game waiting for you!
Later in the week, Skyline offers a thrilling $5 3:2 blackjack game during the nighttime hours. Additionally, for those seeking some weekend excitement, there is a poker room that hosts the final Las Vegas market game of 2/4 fixed limit Texas hold'em.
Jokers Wild
Boyd Gaming owns Jokers Wild, the sole remaining casino in this vicinity. Contrary to the company's standard players club, Jokers Wild operates independently. Interestingly, this property seems ready to establish itself as a prominent locals casino, especially considering the new development taking place nearby.
Jokers Wild has faced a challenging period, grappling with adversity. Following the temporary shutdown caused by the pandemic, table games were no longer available. Regrettably, the beloved $1 craps game has become a relic of the past. Consequently, the overall ambiance of the casino has undergone a significant transformation. However, amidst these changes, there is still a glimmer of hope for patrons seeking excellent value—the heads up craps machines remain, offering a minimum bet of $1.