Online sports betting is legal in Nevada. You can benefit from some great mobile platforms that allow you to engage in real money wagering, The Golden Nugget Nevada sportsbook is one of the top choices.
This mobile app launched in 2017 and remains one of the top choices when it comes to placing wagers on the go. Get ready to enjoy the best of mobile betting with the Golden Nugget Sportsbook and pick up some great promotional deals along the way.
Golden Nugget Sportsbook Nevada
Getting started with the Golden Nugget Sports betting platform is simple, and within minutes you can open a new member account. Unlike other operating online sportsbooks, Golden Nugget Nevada does not offer a registration process online or on a mobile device. In order to open an account, you have to visit the Golden Nugget Las Vegas Race and Sports Book and make your first deposit in person.
Once you have an account, you can benefit from some great betting action. The Golden Nugget Sportsbook is a leading choice in the industry and if you are in Nevada, you can claim some handsome bonus offers after your account has been set up.
| | |
| --- | --- |
| Golden Nugget Sports Welcome Offers | Details |
| Sign Up Bonus | Not Available |
| Loyalty Rewards | Must sign up for Rewards Program at the land casino. You can then earn points as you place mobile wagers. |
Unlike many other operating sportsbooks in Nevada, you will not have the ability to redeem a welcome bonus when you create a new Golden Nugget Sportsbook account.
Contents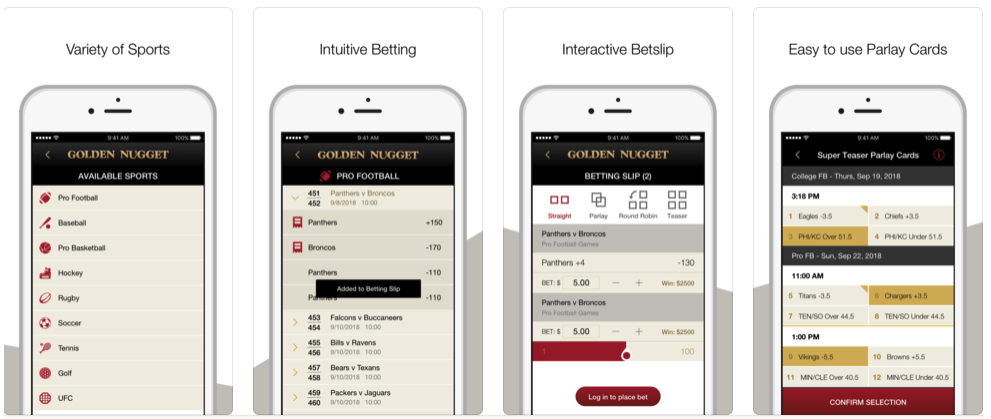 Golden Nugget App Software
You can easily use your Android or iOS device to engage in the thrills at Golden Nugget Las Vegas. A link to the app is offered on the main page of the Golden Nugget Nevada online site. You can also download the iOS app from the App Store. After the installation, you can manage your account and place real money wagers on the different markets with the app.
The Golden Nugget app uses Miomni software. The lines, point spreads, and odd are all presented in an easy-to-read format. The interface is easy to use. You will benefit from fast navigation to the different sections of the betting app. The current version of the Golden Nugget Sportsbook app allows you to access the app using a cellular signal or via wifi.
In regards to banking, all transactions for the Golden Nugget Las Vegas sports app must be made at the Golden Nugget land location. You will not be able to add any funds or withdraw from your account using the mobile app. The minimum deposit required when opening a new Golden Nugget Sportsbook account is $100. There is a $5 minimum wager restriction when using the app.
Sports Covered at Golden Nugget Sports
When you create your Golden Nugget Sportsbook account, you will have the ability to place wagers on most professional and collegiate sporting events from all over the world. There are some restrictions that are in place. At Golden Nugget Nevada, you will not have the ability to wager on horse racing using the mobile app. Moreover, you cannot make any picks for the Friday Football Showdown.
There is also a restriction when it comes to placing bets on the NBA. The owner of Golden Nugget also owns the Houston Rockets, so you cannot place NBA bets on this team. However, this also means that the odds for other NBA selections may differ greatly from other sportsbooks since the odds have to be adjusted on other teams due to this limitation.
With your funded Golden Nugget Las Vegas account, you are free to place a variety of wagers on the following sports:
NFL
College Football
Canadian Football
Australian Rules Football
NBA
College Basketball
Rugby
Baseball
Hockey
Soccer
Mixed Martial Arts
Auto Racing
Cycling
Tennis
Golf
eSports
In the past, you were not able to legally bet on college sports. That has changed, allowing you to wager on any sport that did not involve a Nevada college. Recent amendments to the laws now allow you to engage in wagers on UNLV and University of Nevada (Reno) games. So you will find a full offering of college sports at Golden Nugget Sports.
Types of Bets to Place
At Golden Nugget Sportsbook, you will find many ways to enjoy betting on your favorite sports and teams. You will find many different bets that can vary depending on which sport you have selected. With Golden Nugget Las Vegas sports betting, you will always have the best possible odds. You will be able to place your wager on the many different markets that are supported. Below, we take a look at the types of bets you can legally place with your Golden Nugget Sportsbook account.
Point Spread Bets
Point spread bets are the most popular type of bet when wagering on basketball and football. Bettors will set a favorite team will be set and that team will have to win by a certain amount of points. At Golden Nugget Sports, you will find many sports offering point spread bets. These are among the easiest wagers to place.
Money Line
With this type of bet, you will be choosing what team will be the winner of the game or the event. There will be a money handicap involved and money line favorites will be displayed with a – in front. Let's say a team is a two-to-one favorite. It will be displayed as -200 on the board. In this case, you will have to lay $200 for every $100 you hope to win from the wager. It is common for money lines to be placed in addition to a point spread bet, especially when wagering on football.
Totals
Totals are also a popular option at the Golden Nugget Nevada betting site. This is a wager that is placed on the total number of points that will be scored by both teams in a game. Totals can also be referred to as over/under bets.
Parlay
Parlay bets are quite popular at Golden Nugget Sports and with these bets, there will be two or more outcomes. Parlays will usually only pay if all wagers are winners. The exception may be if a game is canceled or postponed and the remaining selections on the bet are winners. In this case, the parlay will pay the lower amount. Parlay bets can be difficult to win, but they can yield some of the best possible payouts. So they are a common choice among experienced bettors.
Other Types of Bets
In addition to these popular betting options featured at the Golden Nugget Las Vegas site, you will also be able to place a variety of other bets. These can include partial game line bets, teasers, pleasers, futures, round robins, and propositional bets.
Golden Nugget In-Play Betting
Not only can you engage in traditional sports betting at the Golden Nugget Sportsbook, but you will also find the ability to place in-play bets on your mobile device. With the provided app, there is a section for Live Betting, Here, you will find a list of all events and games that are being played or that are scheduled to be played. In-play betting allows you to place wagers as an event occurs. The odds are always being updated, so you have better chance of making winning bets as you wager later in the game or match.
In-play wagers at Golden Nugget Sports are typically money lines, totals, and point spreads. These bets allow you to place a wager late in the action to have more chances to win.